The film is based on the oral testimony of Josefa Castro García, recorded in 2013 when she was 90 years old, in which she recounts her life marked by the Civil War and post-war repression. Through her narration, the students with the same age as Josefa Castro was during the Civil War, 16-18 years, have developed a cinematographic proposal in parallel to their process of shared discovery of audiovisual language.
The project tries to value not only the film resulting from it, but also the process of realization, so that we have collected a series of textual and audiovisual materials as documentation and research to generate a space for shared learning. The "learning community" formed by adolescents, teachers and artists has experimented not only in the audiovisual, but also in the teaching-learning modes, where exchange, collaboration and the establishment of non-hierarchical relationships allow us to investigate alternative methodologies to the normative approaches in the classroom.
Libertad (2019) 46 min.
The picture has been made in 16mm-film and all the phases of the film process (planning, filming, developing and editing) have been developed by the students with the collaboration and coordination of the team of artists and teachers.

Libertad (2019). Trailer
---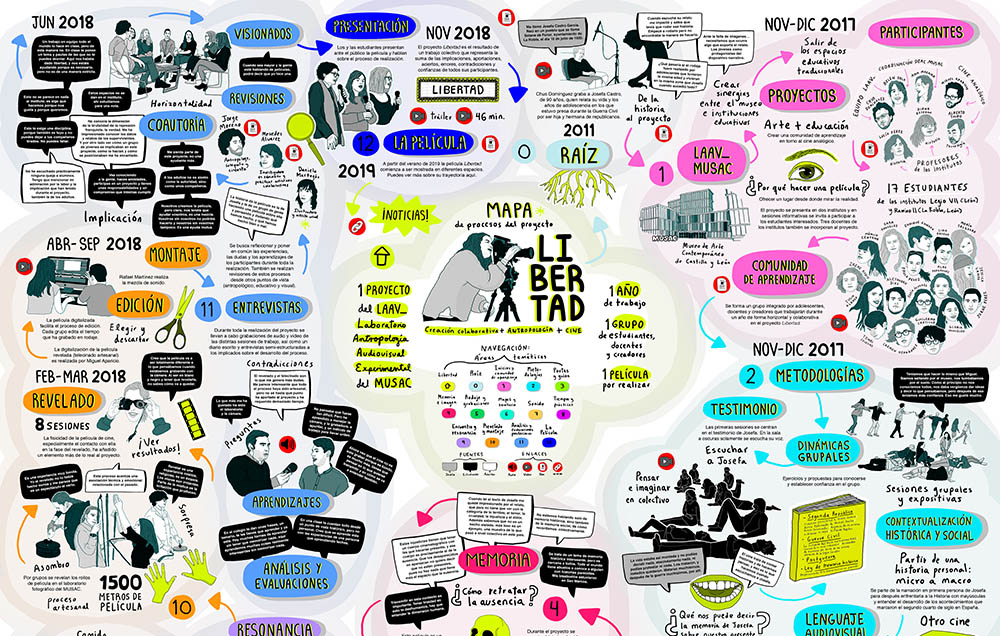 ---
Team
Students (high schools Legio VII,León, and Ramiro II, La Robla):
Julia Alonso, Sofía Álvarez, Guillermo Castillo, Mónica Centeno, Alejandro Díez, Alba Fernández, Enrique Gamazo, Sara González, Carmen Hernández, Tomás Iglesias, Gloria Miguélez, Jessica Lamas, Lidia Ortega, Jorge Pérez, Paula Pérez, Irene Rubio, María Salguero
Teachers:
Alberto Taibo, Lucía Pérez, Diana Esteban
Analog cinema advice and accompaniment:
Miguel Aparicio
Research accompaniment:
Mercedes Álvarez Espáriz
Coordination:
Ana Mazaira
LAAV_ team:
Chus Domínguez, Belén Sola
---
Screenings
Ciclo Docma, Cineteca Madrid, jueves 19 marzo, 20:00, sala Borau, Madrid.
MUSOC, Muestra de Cine Social y Derechos Humanos de Asturias, 24 enero, Sama (Asturias).
L'Alternativa, Festival de Cine Independiente de Barcelona, Sección Oficial, viernes 15 noviembre, Zumzeig Cinema.
Alcances 51, Festival de Cine Documental de Cádiz, Sección oficial largometrajes, 28 y 29 septiembre. Mención especial del jurado.
Museo Nacional de Antropología, Madrid. Jornadas Frente a frente: memorias de guerra. 14 de septiembre 2019.
---
Videos making-of
Before shooting
Shooting and developing
Editing y viewing
---
Texts
Anthropology, representation and absence. The case of Libertad, a film about memory and damage. Jorge Moreno [English]
A conversation that never existed. Libertad Working Group. Mercedes Álvarez Espáriz Edition [English]
---
Other video
Josefa portrait
Students portrait
Test with ambient sound (fragment)
---
Documents
Project
Josefa's story trasncribed
Organización en grupos de la realización
Secuence guide sheet
Scrapbook. Lucía Pérez